Creating content
On this page we'll walk you through creating a new piece of content using a simple banner as an example. This will probably be very similar to some of the types of content that are installed in your library. To see an example of creating a more complex content item take a look at Creating linked content.
To create a new piece of content, first click the "Create content" button at the top right of the Content Library window. This opens the content types window and lets you choose from the content types that are available in your current content repository.
Choosing the type of content to create
The content types window is shown in the image below. In this example we'll create a Tutorial Banner content item by selecting the Tutorial Banner icon and clicking "Add content".
Adding the content
The content editing window is opened with the fields defined by the Tutorial Banner content type. Notice that the content type is shown at the top of the window.
Labels provide more detail about the purpose of each field on the content editing form, in this case a headline, strapline and and a background image. We'll fill in the heading and subheading and add the image.
To add the background image, click the "Add content" button as shown.
The media browser opens, showing the images that are available to add to this content. In most cases your assets will be stored in the Amplience Content Hub linked to your hub, as is shown here.
We'll choose the image to add and click "Add content".
The chosen image is added to the content and displayed in the form. Once all the fields have been populated, the content can be saved.
The Save content dialog is displayed. In this example we'll name the content "Summer collection banner". The name will be displayed when adding this content to slots in an edition, so when you create content items you will probably use some naming conventions to identify it with a particular project.
The content is now saved. If this content type has a visualization associated with it, then a preview of the content is shown in the window on the right hand side. The preview will show the content as it will appear when it's displayed on your website or app.
A visualization is refreshed each time you click save.
Once we've finished editing the content, we click the Back button to return to the Content Library.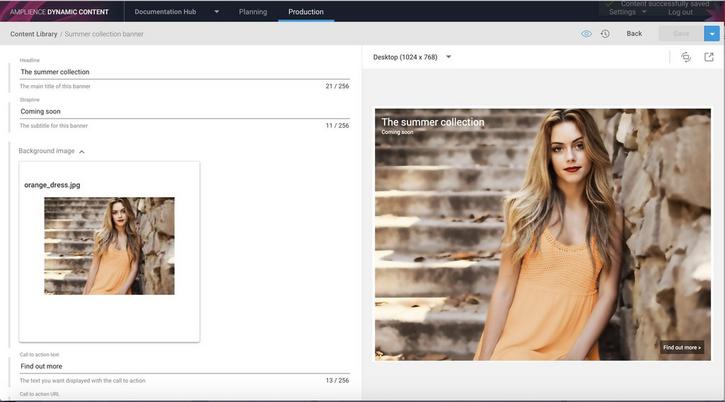 The newly created content item is now shown in the Content Library. The content is sorted by last modified date, so our banner appears in the top left.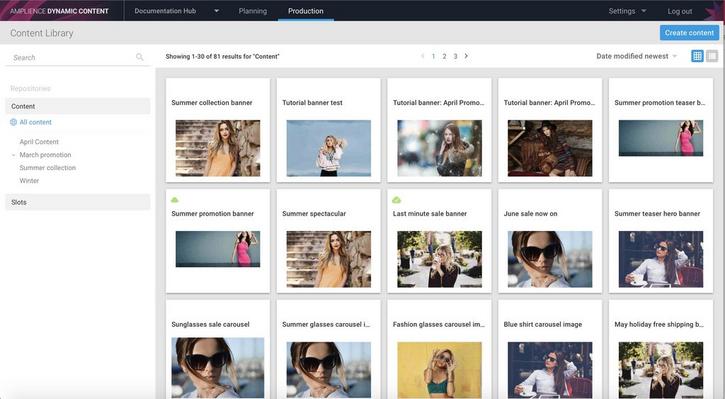 Related pages